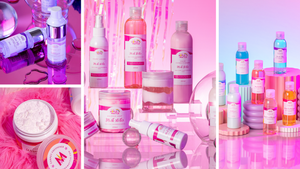 From a dream to reality...
Hello!! Thank you for visiting Maple & Wattle, where YOUR happiness is our main goal!

I am Luana, founder and Chief Executive Unicorn ♥ With my team of enthusiastic Unicorns we make all our goodies right here in Australia, in our Gold Coast manufacturing facility (AKA The Unicorn Castle)
Maple & Wattle was born from my love for all things Canadian & Australian, and from my long lasting passion for crafting which started in 2010 as an outlet to cope with the trauma of domestic violence, when after years of constant physical and emotional abuse I was able to finally break free from a horrible situation that endangered both my son and I.
I kept creating beautiful and fragrant goodies for years, first just for the two of us, then for friends and acquaintances. Slowly we added more and more products until 2017, when due to overwhelming demand, I decided to turn my passion into a business that quicky exploded into the majestic powerhouse we are today!
With 2 warehouses and a strong team we are quickly becoming Australia's favourites!!!
Our mission is simple
Bringing you joy and happiness by creating affordable products of the highest quality. We test accurately everything we make, and if it's not good enough for our home, then you'll never see it for sale - our standards are high, and we never drop them. We want you to have a product that you'll enjoy so much you'll keep coming back for more!
Thanks for shopping with us!!
Luana  - Founder & Chief Executive Unicorn